Patron records with MBLOCK = z
Accounts sent to a materials recovery service ("Collection")
If a patron has at least one billed item and owes at least $25, some libraries send the account to a materials recovery service for follow-up billing. This service is currently used by Chippewa Falls, Eau Claire, and Menomonie based on the patron type (P TYPE) value in the patron record, and by Balsam Lake and Ladysmith based on the home library in the patron record.
Note that a "collection agency reporting charge" is added to these patron accounts, but submission to the materials recovery service does not adversely affect the patron's credit score.
All customers who have been sent to "collection" will have a "Z" in the MBLOCK field of their account. NEVER remove this block. When the customer pays off their account, you may have to override this block to allow them to checkout but NEVER remove it.
It is removed overnight when the materials recover service is notified that the account was paid in full. If you remove the "Z", the account will never be closed and the customer will still get mail from the materials recover service asking for payment.
Updating Accounts
In general, you may update the free text fields [blue square] of the customer's account.
However, if you see a "Z" in the MBLOCK field [red circle], a good rule of thumb is you should not update the fixed fields [green square] in the customer's account. The only exception to this would be to update the ACT 150 and COUNTY info if the address in the address field has changed. NEVER update the HOME LIB or the P TYPE.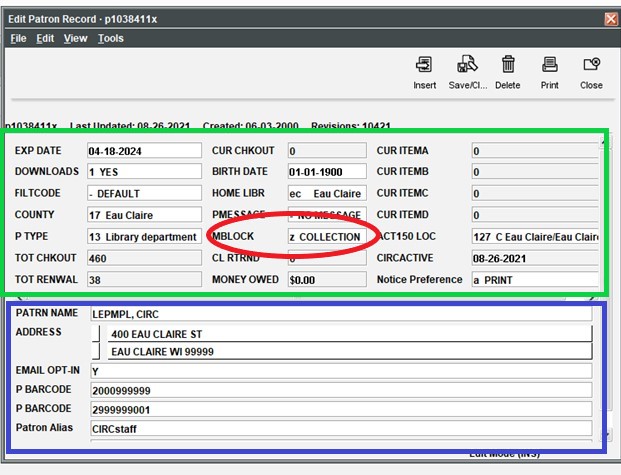 Collecting Fines/Fees
For accounts at collections, the account balance must be paid to $0 (not under $10 as is true with accounts not at "collections").
When a customer is at "collections" and is paying in increments, please apply payments in this order:
Replacement fees: Fill out reimbursement slips for replacement fees as indicated by the owning location of the charged items
Overdue fees
"Collection agency" fees: Fill out reimbursement slips for the collection agency fees as indicated by the charge location UNLESS there is a message in the customer account indicating that the reimbursement should be sent elsewhere.
Paying the "collection agency" fee last will ensure that their account gets to the "paid in full" status if the customer pays in increments which will stop contact from the materials recover service. Partial payment is not allowed on the $10.00 "collection" fee. That must be paid in full.