CABS: Cataloging and Bibliographic Services
About CABS
Welcome to IFLS's Cataloging and Bibliographic Services (CABS)! CABS supplies title records to which MORE-member libraries attach their items.
To create title records, libraries supply CABS with:
Contact us
It is extremely important to maintain up to date information if there are any staffing changes. If you decide to designate any additional staff members after getting started with the service, please let us know that as well.
Vendors
Each order notification must provide enough information for CABS to find or create an appropriate bibliographic record for you to attach an item, including
Title
ISBN or UPC
Material type (book, audiobook, music CD, DVD, Blu-ray, etc.)
Author and/or main performer
If CABS needs to see the item to create a full record:
A brief bib record will be entered
CABS staff will place a hold on the item
Check the item in to fill the hold, print a transit slip, and send via courier
IFLS catalogers will fully catalog the item once received, then route it via courier
There will be a few different CABS order notification methods, depending on which vendor you've used to place the order. Here is the information we have so far.
Amazon
It's no longer possible to download order reports from Amazon. To send Amazon order information to CABS:
Select/highlight the contents of your order from a cart
Copy by right-clicking and selecting "Copy," or Ctrl+c with your keyboard
Paste the order contents into an email. This method should preserve Amazon's product links, which helps catalogers create records
Send the email to: cabs@ifls.lib.wi.us
Baker & Taylor
If you are not using Sierra's Acquisitions module to add order records, you do not need to send any Baker & Taylor order information to CABS. CABS staff goes directly to the Baker & Taylor website to access each library's shipped invoices, so CABS is working on orders that have shipped from Baker & Taylor daily.
If you are using Sierra's Acquisitions module and use TS360 or want to manually add order records, you will need to send your cart via email to: cabs@ifls.lib.wi.us. Select File Format: HTML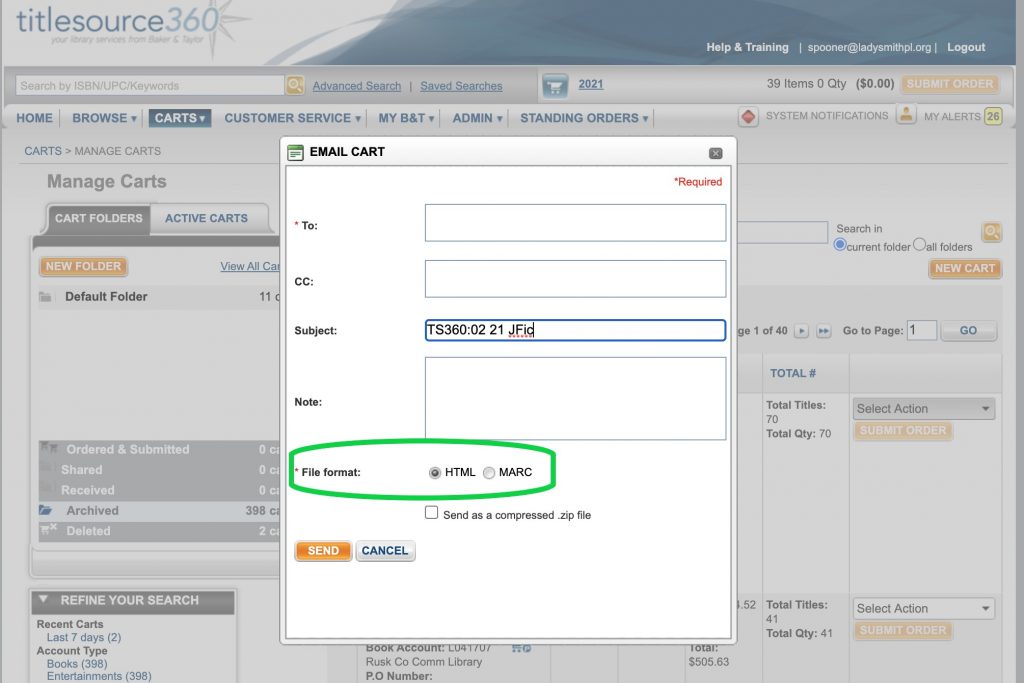 Our goal is to have the bibliographic record completed before it reaches your library. However, depending on the number or items in an order and how many orders arrive in one day, there may be a slight delay of a few days before you see a full record in Sierra.
Ingram
Ingram previously requested the library log in to add our email (cabs@ifls.lib.wi.us) to your ordering information. Please check with them to see if they can simply add the CABS email as an additional email address when they send a confirmation or authorization.
Other vendors
Several of the vendors have told us they will be able to forward your orders directly to the CABS email once this is set up by you. We ask that when you notify the vendor, please ask that the CABS email (cabs@ifls.lib.wi.us) be an additional email address–but not a replacement for your email address–when they send a confirmation or authorization. These vendors include:
Center Point
MidAmerica
Midwest Tape
Sebco
Penworthy
Let us know if you have any set-up issues with these vendors.
Other vendors may not provide an email when you place an order. In that case, send your order to the CABS email (cabs@ifls.lib.wi.us). It is worth asking them when placing an order if they will add the CABS email as an additional email address when they send a confirmation or authorization, but this will be up to you. They may have altered their practices, and it may be worth checking with them to see if there are different options with invoices. 
These vendors include:
Better World Books
Gale-Cengage
Usborne
Micro Marketing
Lerner
Gale Group
Thorndike Press
Broadreach
Lookout Books
Gumdrop
Smart Apple Media
Junior Library Guild
Knowbuddy Resources
Some libraries receive no electronic invoice, only a paper one, and they often scan the invoice and send it as an attachment to the CABS email (cabs@ifls.lib.wi.us). This is not ideal, but we are able to work with this information most of the time.
Donations and other materials to add
Any items that are purchased from direct sales locations such as Walmart, Target or BAM will need to be handled differently. The same goes for donations or other items that have not been purchased with library funds.
There are a few ways you can provide information about these materials:
Send the items into CABS at IFLS via courier.

Attach your library barcode to every item

Send a detailed email to CABS (cabs@ifls.lib.wi.us) providing the requested information based on format:
Book:
ISBN
Title
Author or illustrator
Publication date
Hardcover or paperback
Format – Board Book, Large Print, Graphic novel, or Musical Score.
Please indicate if it has any specialized information (Book discussion guide, Q&A with author)
Serial (guidebooks):
ISBN or LCCN on specific edition
Title
Author, editor or publisher
Specific series (ex. Moon Handbooks)
Year/edition you have in hand
Books with audio:
Please include book information (see above)
Narrator or performer
Musical or spoken word
Information about the accompanying audio compact discs: Number of discs
Information about the accompanying audio-enabled book

Attached reader information (VOX, Wonderbook, etc.)
Additional components included (headphones, charging cord)
Book with CD-ROMs or other software:
Please include book information (see above)
Include information about the accompanying computer discs (CD-ROMs)
Number of discs
Specified contents of the discs
DVD, Blu-ray, 4K Blu-ray or Combos such as Blu-ray + 4K Blu-ray; DVD + Blu-ray:
Title
UPC
ASIN (if it was ordered from Amazon)
Specific format: DVD only, Blu-Ray only, Blu-ray + 4K Blu-ray combo, DVD + Blu-ray combo
Number of discs (especially with Television series)
Running time
Publication date
Aspect ratio (Widescreen or Full screen)
List any special features
If there are multiple discs specify feature film, bonus features, etc. for each disc
Any notable special packaging
Audiobook (Compact disc; MP3 compact disc; Playaway):
ISBN
Title
Author
Publication date
Name of narrator
Number of discs
Specific format: CD, MP3, Playaway
Running time
Abridged or Unabridged edition
Any bonus content like an additional disc with PDF content
Any notable special packaging
Music compact disc:
UPC
Title
Performer or name of the band or group performing
Publication date
Number of discs
Running time
If it is a special edition
If it includes bonus or additional materials, for example bonus compact disc or bonus DVD with special features
Booklets
Any notable special packaging
Computer game:
UPC or ISBN
Title
Format (computer disc or computer chip)
Publisher, manufacturer, or distributor name
System requirements: (Nintendo Switch, PS4, XBox One, etc.)
Puzzle or board game or card game:
UPC or ISBN
Exact title
It may be useful to send a photo of the box if possible, or we may inquire for more information
Book discussion kit:
ISBN
Title
Author
Number of books in the kit
Number of any other formats in the kit (large print, audiobook)
Any additional materials included in the kit (book discussion guide)
Puppets:
Name of the puppet
UPC on the tag
Manufacturer
Detailed description of the puppet (size, colors, material)
Equipment: (Snowshoes, WiFi hotspots, cake pans, etc.)
Provide whatever information is available
UPC
Manufacturer
Any details you can
May be helpful to have a photo of the product information
Park Packs or local interest activity kit:
Send the contents list of materials included in the pack or kit
The exact title you have chosen for the kit
Description of the container it will circulate in (backpack, plastic box with lid, etc.)
Please send any materials that are difficult to identify, such as local items, into the CABS office via courier using the donation/new material slip. We will work to add these materials to your collection as soon as we can and ask for your patience if they are not added to your collection immediately. Depending on the volume of items we are handling, these may have a lower level of priority, unless it's noted on the slip that you need it for an upcoming program, or a patron is waiting for the item.
Please be advised that materials of questionable physical condition, such as moldy paper, may require discussion and will possibly be returned without cataloging. This has happened very rarely. Please understand that we want to help you in being careful not to add damaged materials to your collection.
If you have several items, please feel free to band multiple books together and include at least one donation/new material slip for the group. Again, it's very important to attach your library barcode to every item you send to CABS.
The most efficient way to send things through courier to CABS is to box them up separately and label the box with the "System Office attention: CABS" courier tags. Again, it's very important to attach your library barcode to every item you send to CABS.
Help us improve the service
IFLS began the initial contract cataloging program, Shared Services, in 2013. This program includes the processing and receiving of materials, in addition to all the cataloging. Currently we have 4 libraries who have opted to pay an additional cost for the supply ordering and storage, receiving and processing of all library materials.
The CABS program began in 2018 and grew from the need to improve the quality of the bibliographic records in the MORE database while offering the options to decrease the staff time at individual libraries. We are honored to continue and grow into a MORE-wide centralized cataloging program in 2021.
We ask for your patience and advice while we are learning how to best manage your items and vendors. We can assure you that all the IFLS staff involved are all very excited to expand centralized cataloging for our consortium. We believe it is the best way to provide a valuable, cost effective and time-saving service that allows more flexibility for staff and resources in addition to eliminating the need to multi-task in a back office or at the service desk while cataloging. We feel this will allow participating libraries more time to provide additional library services for the children and adults in their community.
Please let us know if you have any questions, concerns, or just want to say hello. We encourage you to stop by the Bibliographic Services office the next time you are at IFLS!